INLE LAKE
Inle Lake is a freshwater lake located in the Nyaungshwe Township of Taunggyi District of Shan State, part of Shan Hills in Myanmar. It is the second largest lake in Myanmar which measures 22 km long by 10 km wide, and sits in a valley between two mountain ranges, feels like a different world to the rest of Myanmar. The lake is famous for stilted villages, floating gardens, Buddhist temples rise above the water, and Intha fisher folk propel their boats along via their unique technique of leg-rowing.
PHAUNG DAW OO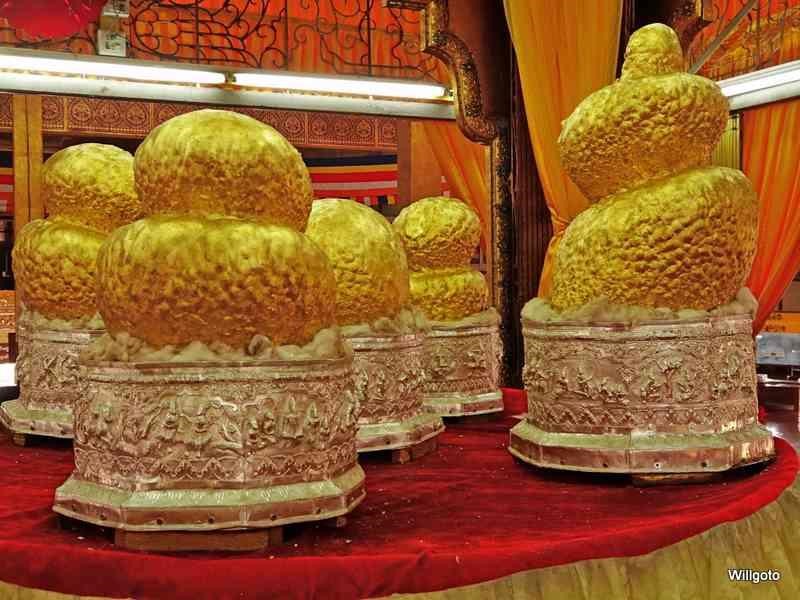 The pagoda houses five small gilded images of Buddha, which have been covered in gold leaf to the point that their original forms cannot be seen.In the 1960s windy day, when the waves were high on the lake, the barge carrying the images capsized, and the images tumbled into the lake. They could not recover one image, but that when they went back to the monastery, the missing image was miraculously sitting in its place.
INDEIN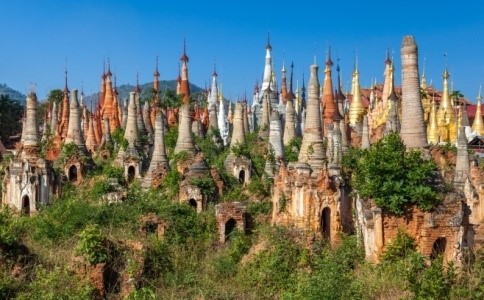 In Dein, occasionally referred to as the 'Shan Bagan', is a huge collection of partly restored and partly ruined stupas begun in the 12th century and added to by Shan princes up until the 18th century. It is a highlight of any visit to Nyaung Shwe and should not be missed.
MAI THAUK BRIDGE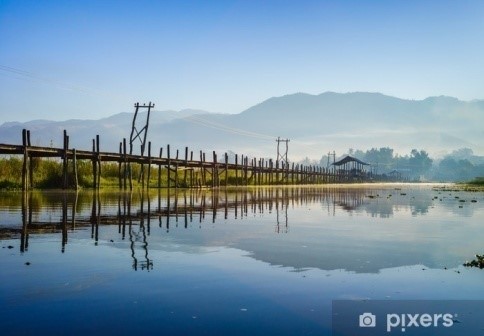 This is a village with a split personality: half is on water, half on land. It also boats a 500-meter teak bridge similar to Amarpura's U Bein Bridge, only not nearly as long or high. They're all simple-life scenes, but the scenery is so beautiful and the atmosphere so relaxed, you'll float away from Inle Lake feeling you're truly experienced something unique.
FIVE DAY MARKET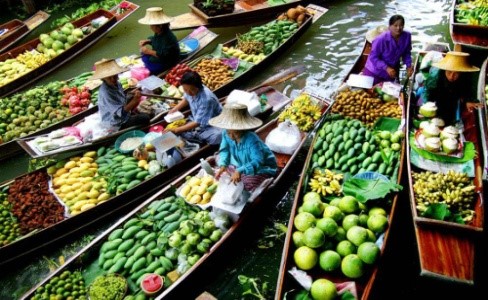 One of Inle Lake's most popular and picturesque sights is its famous five-day market.Few locals actually shop here, so there's little to gain from the crowds of foreigners and Buremese souvenir peddlers.
FLOATING VILLAGE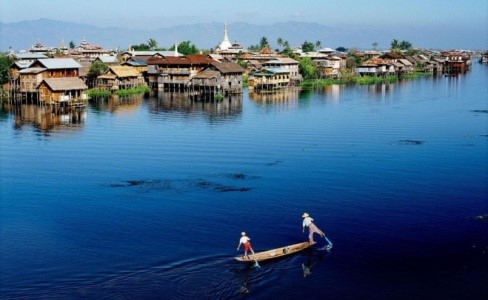 The gorgeous Inle Lake in Myanmar is dotted with small floating villages made of wooden houses built on stilts Pagodas, schools and markets tend to be built on land reclaimed by piling up lake-floor mud while attractive wooden walkways and bridges often connect different houses or village sections.
NGA PHEE CHAUNG MONASTERY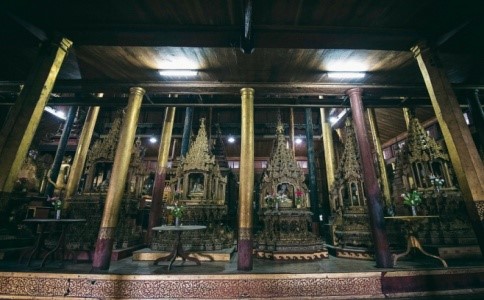 Nga Phe Chaung Monastery is a beautiful wooden monastery built on stilts around 200 years ago over the Inle Lake.This attractive wooden monastery houses an impressive collection of Buddha images respectively in Shan, Tibetan, Bagan, and Inwa style.
LOTUS WEAVING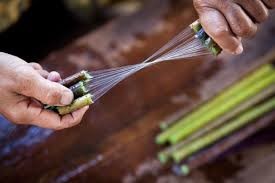 The tradition of making cloth with lotus fibres.Inle Lake is one of the only places on earth where you can still observe this ancient technique.A small scarf requires about 4,000 lotus stems, a large scarf – about 40,000 stems, and a full set of monk's robes requires about 220,000 lotus stems.
NAUNG SHWE
Nyaungshwe is the tourist hub for visiting Inle Lake and Inlay Lake Wetland Sanctuary. It consists of one main thoroughfare with numerous side streets and a few parallel roads. The main street has numerous shops, several restaurants, a few stupas, travel agencies and a market (located behind the storefronts). Near the end of this road, a bridge crosses the river channel near an impressive mirror-tiled stupa.
SHWE YAN PYAY KYAUNG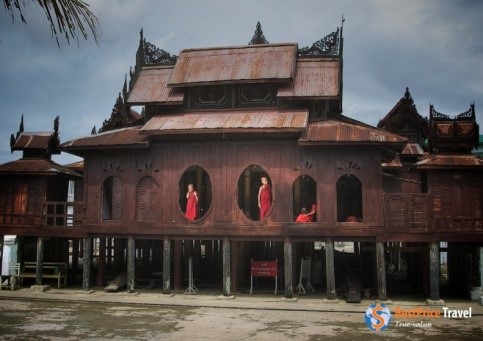 This is probably the most photographed monastery in Nyaungshwe: the unique oval windows in the ancient teak Thein (ordination hall) create a perfect frame for portraits of the novices.
RED MOUNTSIN WINERY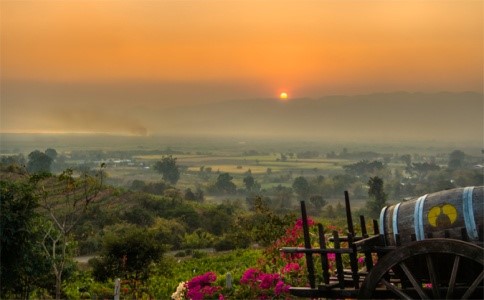 This winery, located in a valley within cycling distance of Nyaung Shwe, is open daily for tastings (K5000 for four wines).For many visitors, the cycle ride here and the beautiful views from the winery are better than the wine.
KALAW
Kalaw stands high on the western edge of the Shan Plateau. It is 70 km west of Taunggyi about halfway along the Thazi-Taunggyi road. This was a popular hill station in the British days and it is still a peaceful and quiet place. At an altitude of 1320 m it is also pleasantly cool and a good place for hiking amid gnarled pines bamboo groves and rugged mountain scene.
Nee Paya (Bamboo strip lacquer Buddha Image)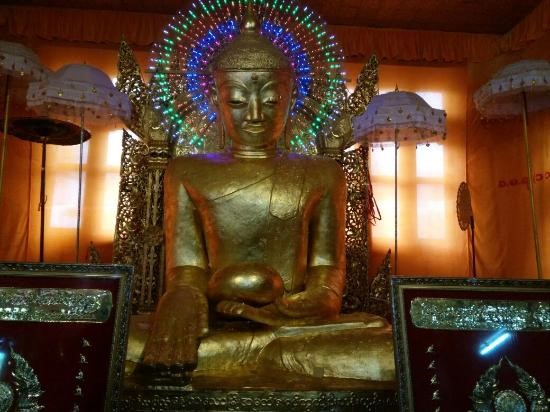 It lies in Pinmagon Monastery of Pinmagon Village Kalaw Township south of Shan State. It was estimateed to have been established in First Inn-wa Period over 500 years ago. The donors were hard to ascertain and there were no records but its head was sharp upright its ears were not touching the shoulders and the nether garment was covered for the whole of its lower parts. So it was believed to be historic. It is eight feet four inches high.
PINDAYA
Pindaya is a town in the Shan State of Burma. It is located in the west of the state in Pindaya Township in Taunggyi District. It is also part of the Danu Self-Administered Zone. Mainly famous for its limestone caves called Pindaya Caves where thousands of Buddha images have been consecrated for worship over the centuries, it is also one of the towns that host an itinerant market every fifth day.
PONE TA LOKE LAKE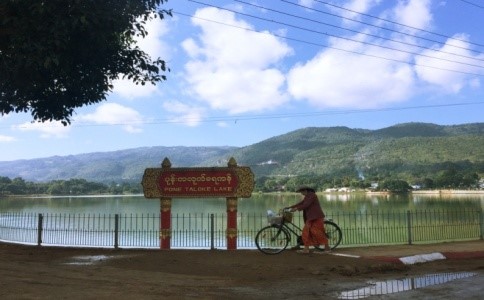 Pone Ta Loke Lake is situated in Pindaya, Shan StateWhile visiting Shwe U Min Cave; one can see the beauty of the lake, enhanced by the nearby landscape full of enormous Banyan trees.
SHWE OO MIN CAVE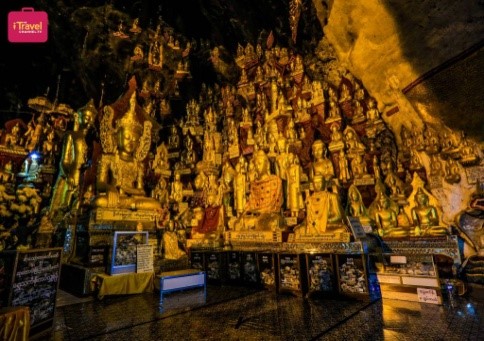 Set high on a limestone ridge above Pone Taloke Lake, this winding complex of natural caves and tunnels is filled to bursting with buddha images in an astonishing variety of shapes, sizes and materials.The caves contained more than 8094 statues, some left centuries ago by local pilgrims and others newly installed by Buddhist organizations.
YWA NGAN THE BLUE LAKE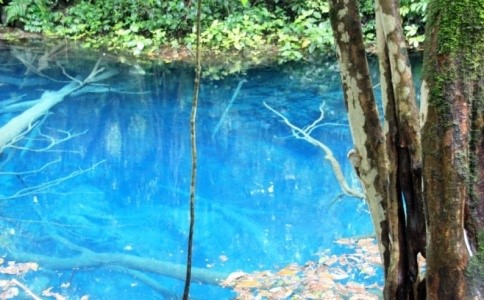 The Blue Lake is in the southern part of Ywangan Township and it is growing in popularity as a tourist destination.The lake is in a small ravine near the village and is reached by a concrete stairway, which contrasts sharply with the lush green of the surrounding forest.
TAUNGGYI
Taunggyi is the capital and largest city of Southern Shan State, Myanmar. Taunggyi is the fifth largest city of Myanmar. The city is famous for its hot air balloon festival held annually on the full moon day of Tazaungmon. Taunggyi has a humid subtropical climate, closely bordering a subtropical highland climate. Temperatures are warm throughout the year; the winter months are milder but the nights can be quite cool.
SULAMANI PAGODA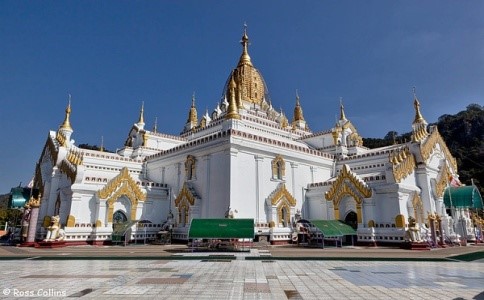 The city's most eminent religious site is the Sulamuni Pagoda. It is the giant, white stupa which imitated the model of the Ananda Pagoda in Bagan.That said, Sulamuni was constructed in 1994 to honor the centenary in Taunggyi.
SHWE PHONE PWINT PAGODA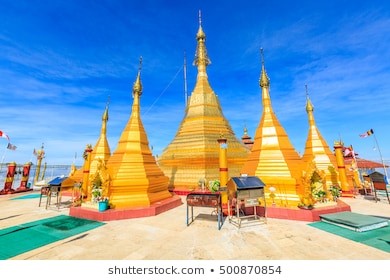 The pagoda lies in the mountain ridge, 40-minute walking from the east of Taunggyi. This religious monument owns the highlights of the spectacular and peaceful landscape, not to mention its long-lasting holiness.
AYETHARYAR WINERY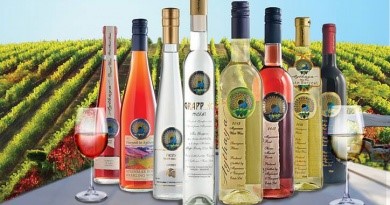 The first vineyard in Myanmar,Located high up in the mountain in Taunggyi. The vineyard provides a great view of Ayetharyar Town especially during sunset. Walking in the vineyard is enjoyable, and the stay at the teak accommodation is very delightful.
KAKKU PAGODA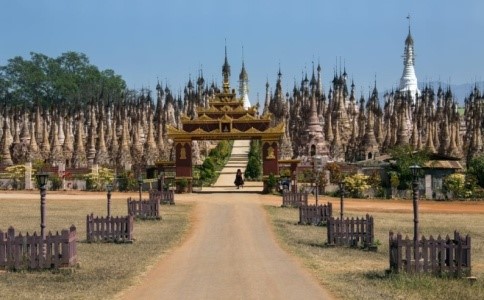 Kakku is one of the Asia's largest and most spectacular ancient monuments, located in the Shan State about 33 miles from Taunggyi. Kakku is in the territory of Pa-Oh people. There are over 2000 stupas packed closely together in ranks and covering an area perhaps a square kilometer. The main stupa is around 40 meters high.
HTEN SEN CAVE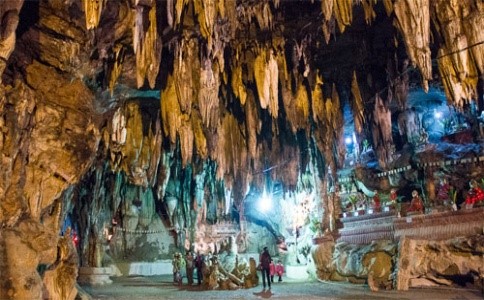 Moving 42km from Taunggyi City to the east, you see the impressive and vast limestone cave system named Hten San. The natural attraction has an elevation of 1800 m. The system protects the massive and age-old stalactites and stalagmites.
HSIPAW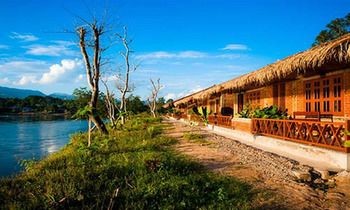 Hsipaw State was perhaps one of the most well known and powerful Saopha Shan States on the banks of the Dotehtawaddy River. Hsipaw, along with Kengtung and Yawnghwe were the wealthiest and most powerful saopha states in Shan State. There are so many things to do in Hsipaw ( Hsipaw Haw, Dotehtawaddy River, Little Bagan, and Natural Hot Spring ).