Cruise In Myanmar
We will bring you to experience the art of the pristine nature. So, we would like you to take the opportunity to spend your holiday with us and make your day fabulous to your satisfaction.
SUNSET CRUISE
ROYAL GREEN RIVER CRUISE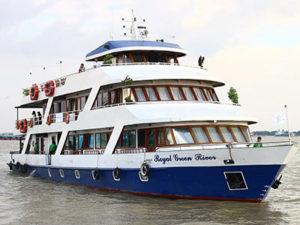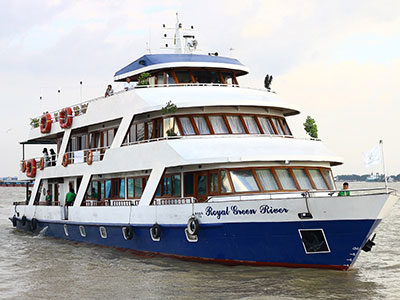 Royal Green River Cruise was operating sunset dinner cruise tour, sightseeing cruise tour to enjoy scenic view along the Yangon River start from 5PM until 7PM in the evening.
Experience the splendid cruise Royal Green River Prince on the Yangon River and taste Asian Buffet dinner with diverse food options while enjoy sun setting on board.
During the cruise, one can explore beauty of Yangon pier and bustling Yangon river.
DAY CRUISE
RV PANORAMA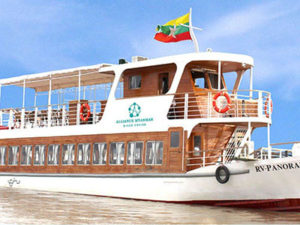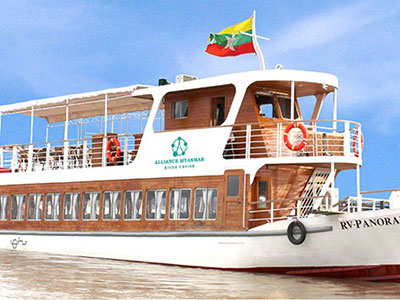 RV PANORAMA is the first blend of express-and-scenery cruise in Myanmar on the legendary River Ayeyarwaddy.
Fully Air-conditioned teak wood Cabin with ultra-comfortable luxury seating. The upper deck has a fabulous restaurant offering various menu options. Passengers can also enjoy fresh fruit juices, blended coffee and tea at the restaurant all day. The bar offers an eclectic mix of alcoholic, non-alcoholic drinks and signature cocktails. Enjoy the panoramic views as you sunbathe sitting in our unique seats on sun deck. Feel the gentle waves of Ayeyarwaddy and enjoy the bliss of life.
MGRG EXPRESS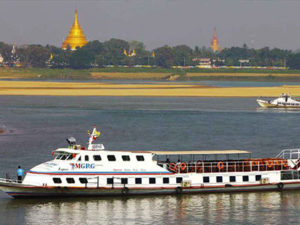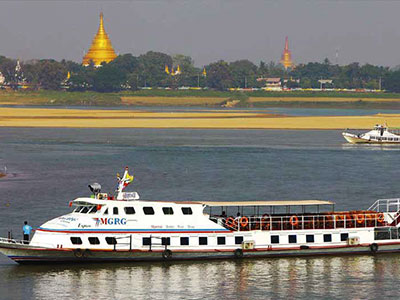 MGRG Express is a well-known express ship since 2001 in Chindwin and Irrawaddy river of Myanmar. The company is now created and launched a new MGRG Express with beautiful design with passenger safety comfortable for between Mandalay and Bagan.
Overnight Cruise
Paukkan Cruise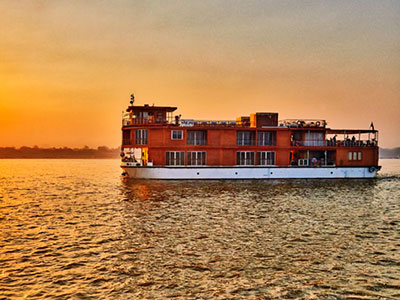 Paukan Cruise is one of the overnight cruise lines in Myanmar, the cruise along on the Irrawaddy and Chindwin Rivers will unveil you the Myanmar cultural heritage, the ex-Royal capitals, the lifestyle and traditions of the people living along their banks.
Presently it operates four ships:
RV Paukan 2007 (a newly built Charming Cruising Boutique Hotel)
RV Paukan 2012 (A small cruising boutique hotel)
Irrawaddy Explorer (The Irrawaddy Explorer Cruising Hotel) started operation in September 2014
Paukan Princess (RV Paukan 2015) started operation in October 2015
Our boutique cruises on the Irrawaddy and Chindwin Rivers will unveil you the Myanmar cultural heritage, the ex-Royal capitals, the lifestyle and traditions of the people living along their banks.
Irrawaddy River Princess II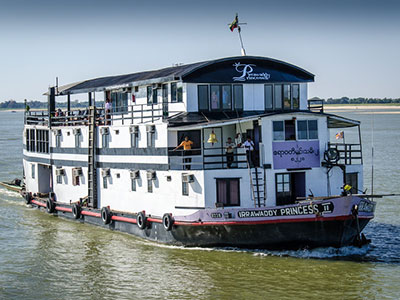 Irrawaddy Princess II River Cruise is a traditional Myanmar riverboat traveling along the Irrawaddy River.
Built in 1998 and It is measure 134′ x 34′ x 6'6" molded depth with three decks.
Board the Irrawaddy Princess on any of her weekly cruise between Mandalay and Bagan and enjoy the greatest travel experiences on the legendary river Ayeyarwaddy.
Irrawaddy Princess II has a total of 20 cabins, all attach with their own bathroom with hot and cold shower. "Irrawaddy Princess II" provides for your cruising pleasure with fully air-conditioned comfortable rooms with all standard facilities including mini bar, bed linen and towels and as well as dining service. Delicious local, Chinese cuisine and western dishes are prepared by our experienced chef and many kinds of drinks, tropical fruit cocktails are available at Sundeck bar.
The Strand Cruise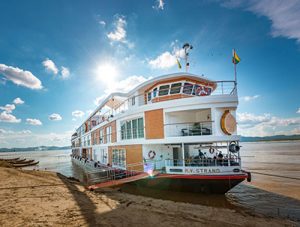 The Strand Cruise was custom built in 2015 in a shipyard in Yangon with a shallow 1.4m draft, designed to successfully navigate the shallow rivers of Myanmar. The 61m ship carries up to 50 passengers in 25 cabins along the mystical waterways of the Ayeyarwady River. Named and styled after its sister property, the luxury heritage hotel, The Strand Yangon, The Strand Cruise offers all the features passengers would expect from a Strand product, from flawless service and gourmet a la carte cuisine, to signature elements celebrating the golden age of the Strand as a meeting place for explorers and raconteurs.
Sanctuary Ananda Cruise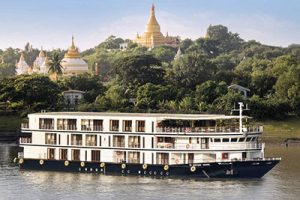 Sanctuary Ananda is custom built by local craftsmen using traditional materials while offering sleek contemporary luxury. Sanctuary Ananda set sail on the Myanmar Rivers in November 2014 and offers 20 spacious suites on three decks, the luxurious Owner's suite, a sundeck with an outdoor pool and the Kansi panorama lounge.
Our luxurious all suite ship will take you in style on voyages of breathtaking beauty and discovery on the mysterious rivers of Myanmar (Burma). You'll visit the majestic Ayeyarwaddy between Bhamo and Yangon visiting temples, pagodas, palaces and monasteries along the way, while journeys on its great tributary, the Chindwin, will take you to places visitors rarely see – through the jungles of the north, forgotten villages, and ancient towns almost to the Indian border.
Anawrahta Heritage Line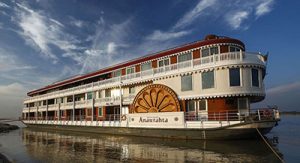 Heritage Line, a consummate collector of classic ships, designs vessels that evoke the glamor of bygone eras. Each of our ships is unique in its design and inspiration. Every detail is painstakingly recreated to remake history. Authenticity, tradition, artistry, and exploration are at the heart of what we do. Join us on a voyage of discovery!
Belmond Road to Mandalay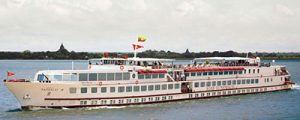 Cruising gently along the Ayeyarwady River, The Road To Mandalay accesses the unique sights, scents and sounds of Myanmar in Orient-Express style and luxury.
From the Royal City of Mandalay, this beautiful craft voyages south to the Ancient Capital of Bagan with its 2,500 Pagodas spread across dusty plain, it also heads north through forested gorges to Bhamo near the Chinese border.
There is more pleasurable way to experience Myanmar – to feel its pulse, meet its people, live its legends and understand its history.
Amara Cruise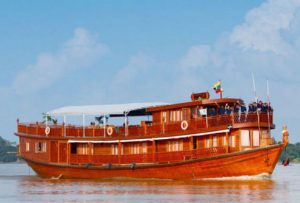 The Amara River Cruise is a traditional Myanmar riverboat traveling along the Ayeyarwaddy River. It is made of teak wood and was completely refurbished by local craftsmen in 2003. It is 30 meters / 100 feet long and with a shallow draft of 1 meter / 3 feet and two Japan made 180hp Hino engines it can go as far north as Bhamo. The Amara River Cruise has a total of seven cabins, each with their own bathroom with hot and cold shower. Communal areas, bar, and canopied sun deck. Electricity is provided by a generator and battery 24 hours a day. Safety is provided by smoke detectors in all cabins, emergency lighting, fire extinguishers, life jackets, and a dinghy. Amenities include onboard laundry, fully equipped kitchen and refrigerators. All bed linen and towels, as well as dining service and bar equipment, are provided. You will be taken care of by our friendly and hospitable staff and be able to relax and enjoy the personal atmosphere on board.