MAWLAMYINE
Mawlamyine (or Moulmein) is the capital of the Mon State in the Union of Myanmar. It is also the third largest city in the country after Yangon and Mandalay. It has a population of about 240.000. Mawlamyine is an ancient Mon town. The name according to the legend comes from Mot-Mua-Lum meaning "one eye destroyed".
KYAIK THAN LAN PAGODA
Three famous pagodas adorn the Mawlamyine Ridge. The Kyaik-thanlan pagoda was erected in 875 A.D. during the reign of King Mutpi Raja. A hair relic of the Buddha Tripitaka manuscripts and gold images of the Buddha were enshrined in the pagoda. Successive kings raised the pagoda higher from 56 feet to the present 150 feet. The present base of the pagoda is 450 feet in circumference.
U ZINA PAGODA
This pagoda is named after a person called U Zina but no one really knows who he was. Some say that U Zina was a sage who lived at the time of King Asoka and that U Zina was just a villager who while collecting shoots on the hill where the pagoda now stands found a pot of gold buried in a bamboo grove.
MAHAMUNI PAGODA
This is a replica of the Maha Muni Image at Mandalay. The Seindon Mibaya-gyi a prominent Queen of King Mindon from Mandalay went to live mawlamyine after the Annexation. She and other members of the Myanmar Royal Family who were in Mawlamyine felt a great longing to pay homage to the Maha Muni Image and they arranged for a replica to be made in 1904.
KYAIKKAMI YELE PAGODA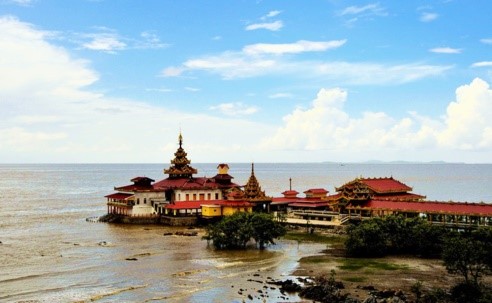 Kyaikkami was a small coastal resort and missionary center known as Amherst during the British era. The main focus of Kyaikkami is Yele Paya a metal-roofed Buddhist shrine complex perched over the sea and reached via a long two-level causeway; the tower level is submerged during high tide. Along with 11 Buddha hair relics the shrine chamber beneath Yele Paya reportedly contains a Buddha image that supposedly floated here on a raft from Sri Lanka in ancient times.Some legend say that Buddha in Maha Sakarit 111 around 581 BC came on sojourn to Thuwunna Bhumi and got to Kyin Maing (Kyaikkhami).